The Ultimate Nomad's Guide to Outdoor Cooking Gear
Introduction
This is your guide to outdoor cooking gear that you need as a nomad. Self-sufficiency drives this need to unlock the ability to cook at a moment's notice.
As a nomad, you know that life on the road brings many adventures and the need for self-sufficiency. One of the most rewarding aspects of nomadic living is preparing your meals in the great outdoors.
To truly savor these moments, you need the right outdoor cooking gear. Whether you're in the midst of a van life adventure or setting up camp in a national park, this ultimate guide will help you navigate the world of outdoor cooking gear.
We'll explore camp stoves, cookware, utensils, and fuel sources, and provide valuable tips to make your nomadic culinary experiences a breeze.
Outdoor Cooking Gear: Camp Stoves
When it comes to outdoor cooking, a reliable camp stove is your best friend. There are several types to consider:
Propane Stoves
Pros: Convenient, easy to use, and quick to set up.
Cons: Relies on propane canisters, which can be bulky to carry.
Liquid Fuel Stoves
Pros: Versatile, work well in cold weather, and use various liquid fuels.
Cons: Require maintenance and can be heavier.
Wood-Burning Stoves
Pros: Eco-friendly, as they use readily available wood as fuel.
Cons: Takes time to gather wood, and some areas may have fire restrictions.
Outdoor Cooking Gear: Cookware and Utensils
Your choice of cookware and utensils greatly influences your cooking experience. Here's what you need to know:
Camping Cookware Sets
Pros: Compact and designed for outdoor use, often comes with nested pots and pans.
Cons: Limited size options and may not be suitable for gourmet cooking.
Cast Iron Skillets
Pros: Excellent heat retention, durable, and can be used over an open flame.
Cons: Heavy and require seasoning.
Portable Grills
Pros: Ideal for grilling enthusiasts, provides a larger cooking surface.
Cons: Bulkier and heavier than other options.
Fuel Sources
Selecting the right fuel source for your camp stove is crucial. Here are your options:
Propane Canisters
Pros: Easy to find and use, no priming required.
Cons: Canisters need to be replaced, which can be inconvenient in remote areas.
Liquid Fuels (White Gas, Kerosene, etc.)
Pros: Reliable in extreme conditions, readily available worldwide.
Cons: Stoves require priming and maintenance.
Natural Resources (Wood, Twigs)
Pros: Eco-friendly and readily available in most areas.
Cons: Requires time to gather and prepare fuel.
Choosing the Right Outdoor Cooking Gear
3 Factors to Consider
Selecting the right outdoor cooking gear depends on several factors. Here are 3 to consider:
1. Portability
Consider the size and weight of your gear, as space in your nomadic setup is limited. This is super important in a minivan camper.
2. Fuel Availability
Choose a stove that suits the fuel sources available in your travel destinations. In some areas, it can be hard to find specific fuel sources. Try to carry backups if possible.
3. Cooking Style
Think about your cooking preferences; are you a gourmet chef or a simple meal preparer? One will need more gear than the other.
💰 Budget-Friendly Options
Nomadic living often requires budget-conscious choices. Here are some cost-effective options:
DIY Camp Stoves
Explore these 6 DIY camp stove ideas using readily available materials.
Tin Can Stove:
Click to see full procedure from CloudLineApparel
Take an empty tin can and remove the top and bottom.
Puncture holes around the top edge for ventilation.
Fill the can with your choice of fuel (alcohol, denatured alcohol, or solid fuel tablets).
Light the fuel through the holes, and you have a simple, efficient camp stove.
Alcohol Stove:
Use two aluminum soda cans. Cut the top off one can and the bottom off the other.
Place the cut can inside the uncut one to create a double-wall chamber.
Puncture holes around the top edge for ventilation.
Fill the inner chamber with alcohol and light it.
Wood Gas Stove:
Find two large tin cans, one smaller than the other.
Cut a hole in the smaller can's lid and insert a chimney pipe.
Fill the space between the cans with a wood chip or pellet fuel.
Ignite the fuel through the chimney, and the stove will burn efficiently.
Rocket Stove:
Use a few bricks or concrete blocks to create a small combustion chamber with a chimney.
Insert a metal tube as the feed for the wood or biomass fuel.
Feed the fuel into the combustion chamber and ignite it.
The rocket stove design maximizes fuel efficiency and minimizes smoke.
Altoids Tin Stove:
Start with an Altoids mint tin.
Create a small hole in the center of the lid.
Fill the tin with alcohol or solid fuel, light it through the hole, and place a pot on top.
Candle Stove:
Take a large, wide can (like a coffee can) and place a few candles inside.
The candles will generate enough heat to cook small meals or heat water.
Remember to exercise caution when using homemade camp stoves and follow safety guidelines. These DIY stoves are best for simple cooking or heating needs while camping, and they can be a fun and practical way to enjoy the outdoors.
Second-Hand Gear
Look for used but well-maintained cooking gear at affordable prices. Check REI, Facebook Marketplace, Craigslist, and your network of family and friends.
Cooking Tips for Nomads
🔥 Campfire Cooking
Mastering campfire cooking can elevate your nomadic culinary adventures:
Fire Safety
Ensure you follow fire safety guidelines and always respect local regulations. A fire extinguisher, a collapsible bucket for sand or water, and fire-proof gloves are all great ideas!
Cooking Techniques
Learn basic campfire cooking techniques like grilling, roasting, and Dutch oven cooking.
📖 Camp Recipes
Try these easy and delicious campfire recipes: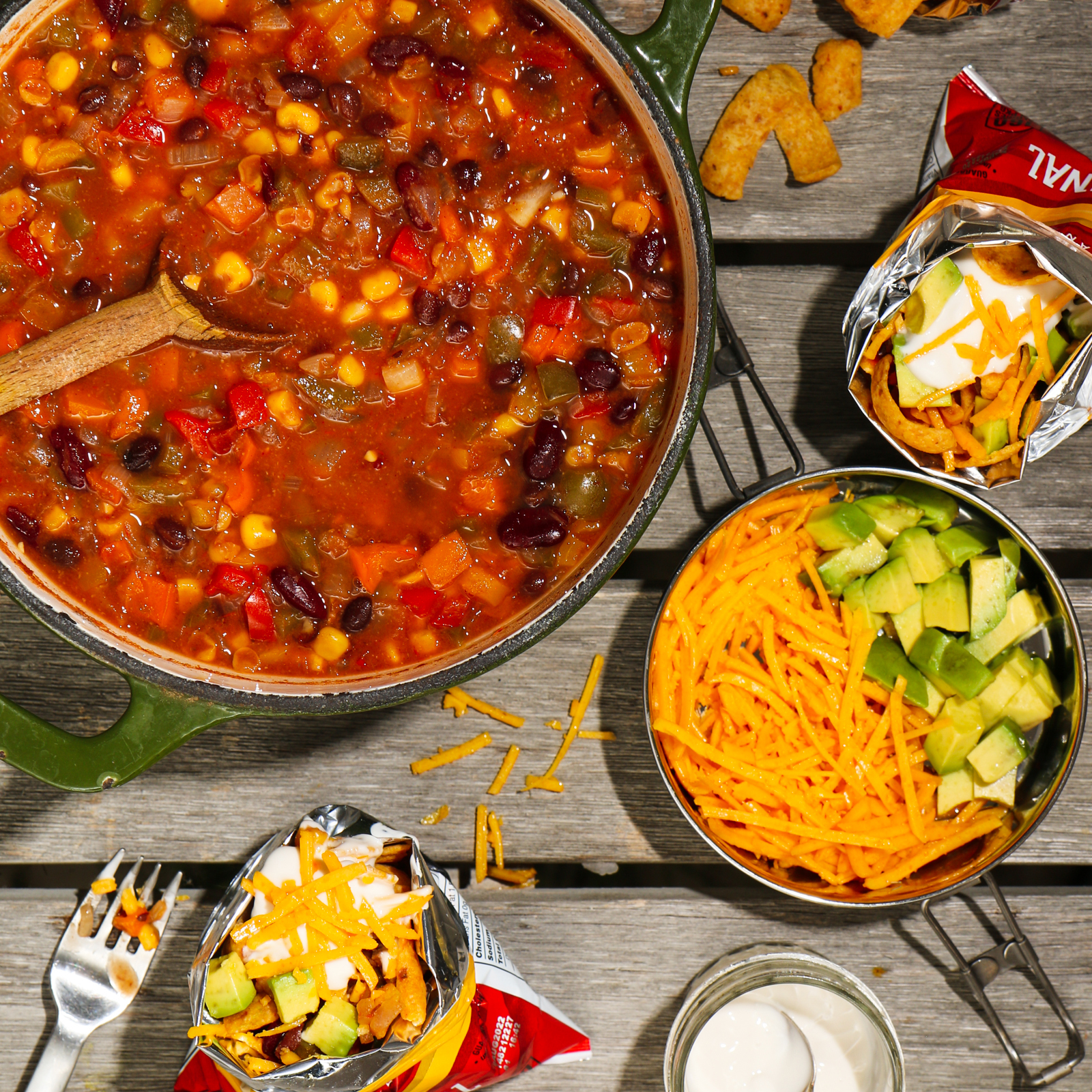 Click for ingredients list and full recipe courtesy of Earth in Color!
One-Pot Campfire Chili
In a large pot, warm 1 tablespoon of oil over medium heat.
Add the diced onion and bell peppers. Sauté and stir for approximately 10 minutes until they become tender.
Next, incorporate the beans, corn, and chili seasoning mix. Cook for about 5 minutes, ensuring everything is well coated and the spices become aromatic.
Now, add the salsa. To make the most of it, fill the salsa jar with water, give it a good shake to get every bit of salsa, and pour it into the pot.
Bring the mixture to a boil and let it boil for 3 minutes.
Reduce the heat to a simmer and let it cook for an additional 10 minutes.
Once done, remove it from the heat.
Your chili is ready to be served, making approximately 6 to 8 servings.
To add some extra flavor and texture, you can top your chili with vegan shredded cheese, avocado slices, vegan sour cream, or a handful of tortilla chips. Enjoy your delicious chili!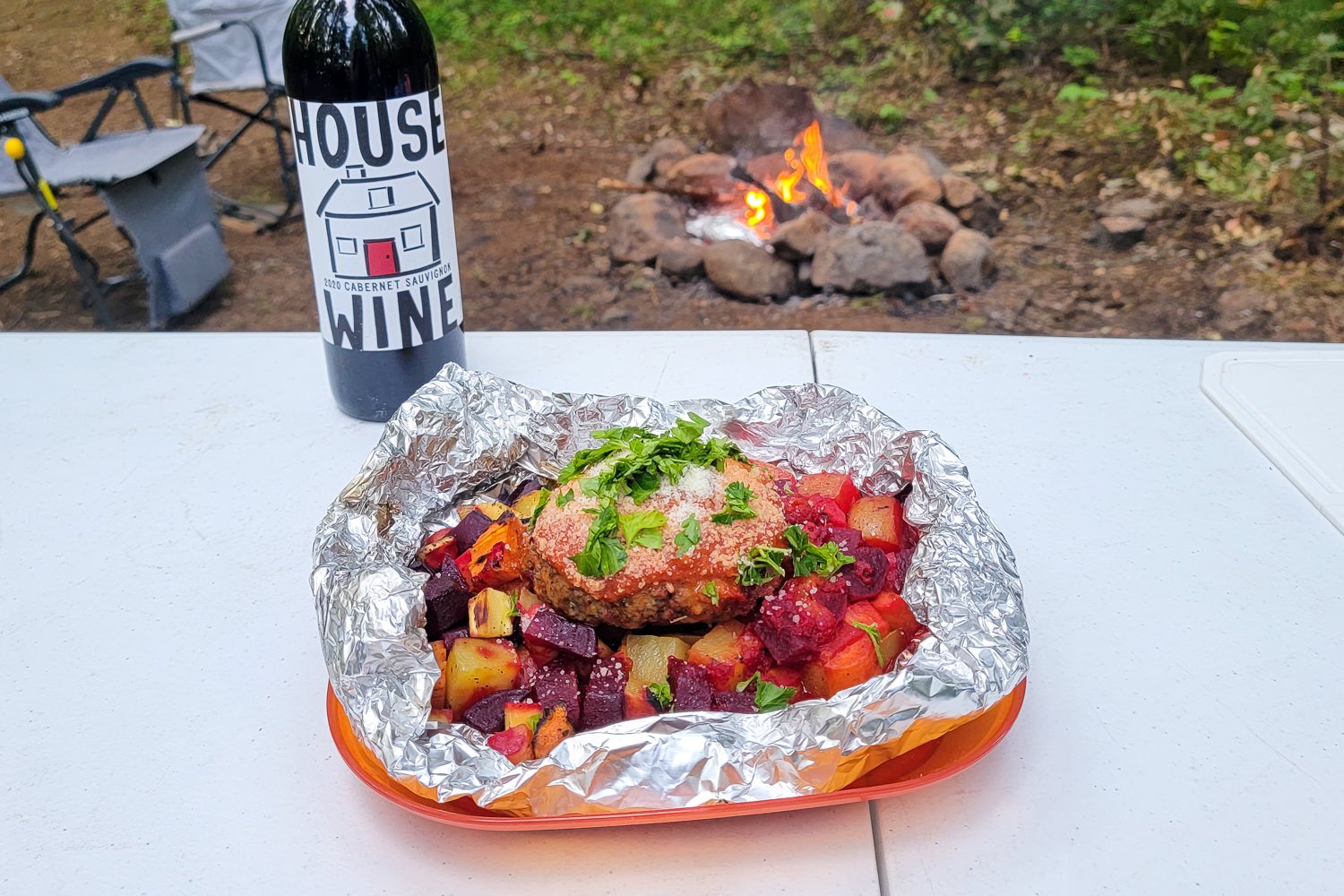 Meatloaf and Roasted Vegetables Foil Packet Campfire Meal – Click here to learn more from Clever Hiker!
Foil Packet Meals
Foil packet meals simplify the process of relishing wholesome, outdoor dining in the company of friends. This culinary technique involves assembling all your ingredients in separate folded foil packets, allowing you to cook them over a campfire, on the grill, or in the oven with ease.
🧯 Safety Precautions
Safety should be your top priority when cooking outdoors. Let's look at some tips to increase your odds of survival:
Food Safety
In the realm of outdoor cooking, the allure of sizzling campfire meals is undeniable. But amid the excitement of preparing delicious dishes, it's vital to remember that safe food handling practices are just as crucial as your culinary skills.
Nobody wants to deal with foodborne illnesses during an adventure. So, let's dive into some essential guidelines on how to store and handle food safely in the great outdoors.
Cool, Dry, and Safe Storage:
Before setting out on your journey, plan your meals and pack perishable items in a well-insulated cooler with ice packs or frozen gel packs to maintain the desired temperature. Keep the cooler in the shade and avoid opening it unnecessarily.
Cross-Contamination Awareness:
Prevent cross-contamination by keeping raw meats, poultry, and seafood separate from other foods in sealed containers or resealable bags. Labeling helps, too.
Hand Hygiene:
Always practice good hand hygiene. Wash your hands thoroughly with biodegradable soap and water before handling food and after touching raw ingredients.
Clean Surfaces and Utensils:
Disinfect your cooking surfaces and utensils regularly. Biodegradable, eco-friendly sanitizing wipes can be a valuable addition to your camping kitchen.
Safe Water Sources:
When washing fruits, vegetables, or your hands, use safe water sources. If you're unsure about water quality, carry a portable water purifier or opt for pre-packaged wipes or sanitizing gels.
Use Food Thermometers:
To ensure your food is cooked to a safe temperature, bring a food thermometer. This tool helps you avoid undercooking and the risk of foodborne illnesses.
Mindful Leftovers:
When you have leftovers, promptly cool them and store them in airtight containers. Make sure they are consumed within a reasonable time frame to maintain freshness and safety.
Waste Management:
Dispose of food waste properly by sealing it in tightly sealed, critter-proof containers to prevent wildlife from being attracted to your campsite.
Remember, preventing foodborne illnesses while camping isn't just about health and safety; it's also about enjoying your outdoor experience to the fullest.
By following these simple yet crucial guidelines, you'll savor each meal without the worry of unwanted guests like foodborne pathogens. So, cook up a storm, but do it with the confidence of knowing you're putting health first.
🧯 Fire Safety
Emphasizing the significance of fire safety, particularly the proper extinguishing of campfires, cannot be overstated.
In the great outdoors, where resources are precious and the environment delicate, responsible fire management is paramount.
Extinguishing a campfire the right way ensures that it poses no threat to the surroundings and prevents unintended wildfires. It's not only a moral obligation but a legal one in many places.
Always be vigilant, keep essential fire safety items at hand, and take the time to thoroughly douse the flames with water or sand, stirring and checking until there is no more heat.
A well-extinguished campfire is a testament to a conscientious outdoor enthusiast who cares for both the environment and the safety of fellow campers.
⭐️ Product Reviews and Recommendations
Top Camp Stoves
In this section, we review and recommend specific camp stoves:
Powerful and Efficient: If speed is what you need, this is the portable stove for you. Boiling water in a flash, it's twice as fast as standard portable stoves. The dual flame, with inner and outer flames in a spiral shape, produces a robust heat output of up to 11,000 BTU/Hr, making it ideal for quick cooking in the great outdoors.
Top-Notch Safety: Safety always comes first when cooking outdoors. The GS-3800DF meets the highest safety standards, with CSA (US & Canadian Standards Association) approval. It's easy to use and reliable, ensuring peace of mind whether you're camping, cooking outdoors, or preparing for home emergencies.
Cold Prevention: Ever had a butane canister freeze on you during cooking? Not with the GS-3800DF. It features a "Thermal Plate" that prevents the canister from getting cold and freezing, ensuring consistent performance in various weather conditions. The heat-resistant knob is another thoughtful touch that enhances safety and usability.
Easy Start: Say goodbye to matches and lighters. This portable stove boasts a Piezo-Type Electric Starter with a Safety Shut-Off System. It's a breeze to ignite, making your outdoor cooking experience hassle-free.
Portable and Complete: The portability of this stove is a winner. It's easy to carry and reliable for a range of scenarios, from camping and outdoor cooking to home emergency kits. Plus, it comes with a heavy-duty clear carrying case and a user manual for added convenience.
In summary, the GAS ONE GS-3800DF Dual Spiral Flame Portable Gas Stove is a powerhouse when it comes to outdoor cooking. It's designed for speed, safety, and portability, making it an excellent choice for nomads like you.
Whether you're whipping up a quick meal on the trail or preparing for unexpected situations, this stove has you covered. So, go ahead and add this high-performance stove to your gear—it's a game-changer for outdoor cooking. Safe travels and happy cooking! 🏕🔥🍳🌄
I've got the scoop on the AOTU Portable Camping Stove, a handy addition to your outdoor cooking arsenal.
Durable and Efficient: This camping stove is designed to stand up to the rigors of outdoor life. The burner base is crafted from a high-strength, lightweight aluminum alloy, while the furnace body is made of refined aluminum alloy, making it resistant to high temperatures, rust, and radiation. Rain or shine, this stove can handle it all, ensuring durability through countless outdoor adventures.
Efficient Flame Control: Whether you need a roaring flame for rapid cooking or a gentle simmer for your outdoor gourmet creations, this stove has you covered. The adjustable control valve lets you go from maximum heat output to a gentle simmer quickly and efficiently. With a rated rate of 3000w, it's more than capable of meeting your cooking needs.
Compact and Travel-Friendly: We all appreciate gear that's easy to carry. This portable stove comes in a compact 4x5x8cm package, and it's incredibly lightweight. Plus, it includes a plastic box for easy storage, making it a breeze to take with you wherever you go. It's perfect for camping, hiking, fishing, and even post-swim cooking to enhance the flavor of your meals and recharge your energy.
Versatile Fuel Compatibility: The fire board specifications (9.5 * 9.5CM) make it suitable for setting a 20CM diameter basin, making it great for 1 to 3 people. It's compatible with any 7/16 thread single butane/butane-propane mixed fuel canisters (EN 417), ensuring you have options when it comes to your fuel source.
Satisfaction Guaranteed: AOTU stands by its product with a 100% satisfaction guarantee. They're committed to resolving any product or service issues and ensuring that every buyer has a five-star experience. So, you can buy with confidence, knowing that your camping stove comes with the manufacturer's support.
Best Cookware Sets
Explore cookware sets that are perfect for nomadic cooking:
Versatile Cookware with Removable Handle: This pot and pan set serves multiple purposes at home or during camping, usable in fridges, ovens, dishwashers, RVs, and tight storage spaces. The detachable handle introduces a fresh cooking approach.
Durable Nonstick Pots and Pans: Crafted from robust, thick aluminum, these nonstick frying pans offer stability and longevity. Smooth edges prevent damage and scratching while ensuring a secure grip when locked onto cookware.
Induction Base Nonstick Cookware: Suitable for all stove tops, including induction, gas, electric, and glass surfaces. Use medium-low heat, ensure the burner matches the pan's base size, and center it on the heat source.
Experience Safe Outdoor Cooking with this Certified Camp Cookware Set: Crafted from food-grade aluminum alloy for fast heat conduction and exceptional durability, paired with 304 stainless steel tableware. Compact and lightweight for an enjoyable outdoor dining experience.
Complete 15-Piece Outdoor Cooking Kit: Includes an anodized aluminum nonstick pot, nonstick frying pan, mini stove with piezo ignition, stainless steel cutlery set, and more. All are conveniently stored in a portable nylon bag.
Space-Saving and Portable: Effortlessly pack these essentials into the nesting pots and bags to prevent missing items. The entire set, weighing just 1.26 lbs, fits in a compact 4.6″ x 6.1″ package, making it perfect for easy transport.
Ideal for 2-3 People: Perfectly sized for small groups, this camping pot set is tailored for hikers, campers, and outdoor enthusiasts. Also makes a great gift for friends and family.
Essential Utensils
Recommend essential utensils for your nomadic kitchen:
I've got the lowdown on the UCO Utility Spork 3-in-1 Combo Spoon-Fork-Knife Utensil, and I have to say, it's a must-have for nomads and adventurers like you.
3-In-1 Camping Spork: Let's talk about versatility. This spork combines the best of three worlds – a dedicated fork, a spoon, and a serrated fork edge for cutting. It's like having a full dining set right in your hand, making mealtime in the great outdoors a breeze.
Ideal On-The-Go Gear: Crafted from high-strength, reinforced glass nylon, this spork is designed to withstand the rigors of your nomadic lifestyle. It's a perfect companion for camping, backpacking, scouting, picnics, and those packed lunches you enjoy on your travels.
Ergonomic Design: Eating in the wild should be enjoyable, and this spork ensures that. It's designed for easy handling, allowing you to savor everything from soups and yogurt to salads and pastas. Plus, it's got the cutting power to handle protein, so you can have a complete meal experience.
Easy To Pack: When you're on the move, every ounce counts. That's why the UCO Utility Spork is designed with a handle featuring two holes, which not only cuts down on weight but also serves as attachment points. You can fasten it to your pack or mess kit using the included shock-cord tether, so you'll never have to dig around for your utensil.
Compact and Lightweight: Weighing in at just 0.5 ounces and measuring 7 inches in length, this spork is the definition of lightweight and compact. Plus, it's both microwave- and dishwasher-safe, making it easy to clean and reheat your meals on the go.
So, if you're looking for a versatile, sturdy, and compact dining solution for your nomadic adventures, the UCO Utility Spork 3-in-1 Combo Spoon-Fork-Knife Utensil is an excellent choice. It's like the Swiss Army knife of eating utensils for outdoor enthusiasts like you. Happy travels, Mellow! 🏞🍴🌲
Here's a quick review of the UCO 6-Piece Camping Mess Kit – a fantastic addition to your nomadic gear.
Versatile Camp Companion: Whether you're camping, backpacking, scouting, or simply enjoying meals on the go, this mess kit is your trusty sidekick. It includes a plate, bowl, camp cup, and a two-piece Switch Spork utensil set, along with a tether to keep everything secure.
Smart Design for Meal Storage: The bowl and plate in this kit have a nifty feature – they connect with an airtight seal. This ensures that your meals stay fresh and intact during storage and transport. Plus, the collapsible camp cup fits snugly inside the kit, making the most of your space.
Multi-Functional Switch Spork: The two-piece Switch Spork set is a game-changer. It includes a dedicated fork, knife, and spoon, and the pieces can even connect together to form an extra-long utensil. Made from durable reinforced glass nylon, they're built to withstand your outdoor adventures.
Stay Put on Any Surface: No one wants their meal sliding around on the table. The bowl and plate in this kit come with rubberized grips on the bottom, preventing any unwanted slippage while you enjoy your food.
Compact and Travel-Friendly: This mess kit measures 8 x 8 x 3 inches and weighs just 0.6 pounds, making it incredibly portable. Plus, it's BPA- and phthalate-free, and both dishwasher and microwave-safe, so it's easy to clean and use on your travels.
The UCO 6-Piece Camping Mess Kit is a versatile, space-saving, and functional addition to your outdoor gear. It's designed to make your nomadic dining experience hassle-free, ensuring your meals are well-preserved and enjoyable. So, go ahead and pack this kit for your next adventure—it's sure to become an essential part of your journey. Happy travels and bon appétit! 🏞🍽🌌
Recommended Fuel Sources
Here are a few reliable fuel sources for your camp stove:
Butane/Propane Mixed Fuel Review
Butane/Propane mixed fuel is a game-changer for outdoor enthusiasts. This versatile combination offers a reliable source of energy for various camping and outdoor cooking needs.
Whether you're firing up a camp stove or a portable grill, this fuel mix burns efficiently, even in diverse weather conditions. It's a breeze to ignite and maintain, making it a must-have for any camping trip.
The compact, easily portable canisters are incredibly convenient, and the consistent performance of the fuel blend ensures you can enjoy your outdoor culinary adventures without a hitch.
Propane Review
Propane for camping stoves is an absolute camping essential. It's the dependable workhorse that fuels our outdoor culinary adventures.
Whether you're simmering a pot of chili or boiling water for that morning coffee, propane delivers a consistent, efficient flame that's easy to control. The compact and readily available canisters are a camper's best friend, ensuring you're never left without a heat source in the great outdoors.
Plus, propane burns clean and is suitable for a variety of camping stoves. It's a must-have for any camping trip, making outdoor cooking a breeze.
Cleaning and Maintenance
Ensure the longevity of your outdoor cooking gear with proper care:
Cleaning and Maintaining Your Camp Stove: Prolonging the Flame of Adventure
Your camp stove is the trusty companion that fuels your outdoor culinary escapades. To ensure it continues to serve you faithfully and efficiently, regular cleaning and maintenance are key. Let's delve into the essential steps to keep your camp stove in top shape.
Post-Use Cleaning:
After each cooking session, let the stove cool down. Remove the fuel canister if you're using one and disconnect any hoses or components. Empty the fuel line to prevent clogs by running the stove until it burns out.
Gentle Scrubbing:
Use a sponge or a soft brush to gently scrub away any food residue or soot. For stubborn spots, a mild biodegradable soap solution works wonders.
Rinse and Dry:
Rinse all components with clean water and thoroughly dry them. Any water left behind can lead to rust or corrosion.
Inspect the Fuel System:
Regularly inspect the fuel system for signs of damage, blockages, or leaks. Replace any compromised parts promptly to ensure safety.
Lubricate Moving Parts:
Apply a silicone-based lubricant to moving parts like valves or pump handles. This maintains their functionality and prevents sticking.
Check Seals and Gaskets:
Verify the seals and gaskets for any wear or damage. These components are critical for maintaining proper pressure and fuel efficiency.
Storage:
When your camp stove is not in use, store it in a cool, dry place. Keeping it away from direct sunlight and moisture helps prevent deterioration.
Fuel Canisters:
Store fuel canisters upright and away from heat sources or open flames. Always check the canister for signs of leakage before use.
Routine Maintenance:
Follow your stove's manufacturer's instructions for routine maintenance, which may include specific steps or schedules for thorough check-ups.
Professional Service:
If you're unsure about more intricate maintenance tasks or if your camp stove exhibits persistent issues, it's wise to consult the manufacturer or a professional technician.
By adopting these cleaning and maintenance practices, you'll keep your camp stove operating efficiently, prolong its lifespan, and ensure safe and enjoyable outdoor cooking adventures. A well-maintained camp stove is a beacon that illuminates the path to culinary delights under the open sky.
Cookware Care
Here are some tips on caring for your cookware sets to prevent rust and damage:
Dry Thoroughly: After each use, wash your cookware with mild soap and warm water, then dry it completely. Even a small amount of moisture can lead to rust, especially on cast iron and carbon steel cookware.
Season Cast Iron: If you have cast iron cookware, season it regularly. Seasoning involves applying a thin layer of oil (like vegetable or flaxseed oil) to the cookware's surface and heating it to create a protective, non-stick layer. This also prevents rust.
Avoid Dishwashers: It's best to hand wash your cookware. Dishwashers can be abrasive and may remove the seasoning from cast iron or damage non-stick coatings.
Use Soft Sponges or Brushes: When cleaning your cookware, opt for soft sponges or brushes that won't scratch the surface. Avoid abrasive scrubbers or steel wool.
Store Properly: Ensure your cookware is stored in a dry, cool place. If stacking pots and pans, place a paper towel or cloth between them to prevent scratching and to absorb any residual moisture.
Use Wooden or Silicone Utensils: When cooking, choose wooden or silicone utensils. These are less likely to damage non-stick coatings or scratch the surface of your cookware.
Repair Non-Stick Coatings: If you notice that the non-stick coating is peeling or damaged, consider replacing the cookware. Using cookware with damaged non-stick surfaces can be unsafe.
Avoid High Heat: For non-stick cookware, avoid using high heat settings, as this can damage the non-stick coating. Use low to medium heat for best results.
Reapply Oil: For cast iron and carbon steel cookware, after each use, wipe a thin layer of oil on the cooking surface to maintain the seasoning and prevent rust.
Regular Inspection: Periodically inspect your cookware for any signs of damage or rust. Address any issues promptly to prevent them from worsening.
By following these tips, you can help protect your cookware sets, extend their lifespan, and ensure that they remain in excellent condition for many delightful cooking adventures.
Utensil Care
Maintaining your outdoor cooking utensils is essential for ensuring their long-lasting use and reliability. Here are some tips for keeping your outdoor cooking utensils in great shape:
Regular Cleaning:
After each use, clean your cooking utensils thoroughly with warm soapy water. Use a non-abrasive sponge or a soft brush to remove food residue.
Avoid using harsh or abrasive cleaning materials, as they can damage the utensils' surfaces.
Dry Completely:
After washing, ensure your utensils are completely dry before storing them. Excess moisture can lead to rust, particularly on metal utensils.
Storage:
Store your utensils in a clean, dry place. Hanging them or using utensil organizers can help prevent damage and keep them readily accessible.
Rust Prevention:
For metal utensils, like stainless steel or cast iron, apply a thin layer of cooking oil to the surface after each use. This helps prevent rust and maintains their condition.
Avoid High Heat:
When cooking over open flames, use utensils with heat-resistant handles. Exposing the handles to high heat can cause them to deteriorate or become brittle.
Wooden Utensils:
If you have wooden utensils, avoid soaking them in water or using a dishwasher. Instead, hand wash them and occasionally rub them with food-grade mineral oil to prevent cracking or drying.
Check for Damage:
Regularly inspect your utensils for signs of wear, damage, or loose parts. Address any issues promptly to prevent them from worsening.
Use the Right Utensil:
Choose the right utensil for the task. Using a spatula for flipping food and tongs for grabbing it, for example, will help prevent unnecessary strain on the utensils.
Repair or Replace:
If you have utensils with broken or damaged components, consider repairing them if possible. Otherwise, replace them to maintain safety and functionality.
Stainless Steel Utensils:
Stainless steel utensils are known for their durability and resistance to rust. However, it's still essential to clean and dry them properly after use to maintain their appearance and longevity.
By following these maintenance tips, you can ensure that your outdoor cooking utensils remain in excellent condition and continue to serve you well on your culinary adventures. Proper care and attention can extend the life of your utensils, saving you the hassle of replacing them frequently.
Fuel Source Storage
Storing fuel sources safely is crucial to prevent accidents and maintain the integrity of your camping equipment. Here's a guide on how to store common fuel sources safely:
Propane Canisters:
Store propane canisters in a cool, dry, and well-ventilated area.
Keep them in an upright position to prevent leakage.
Avoid exposing canisters to direct sunlight or extreme heat, as excessive heat can cause pressure to build up.
Butane Canisters:
Keep butane canisters in a cool and dry place, away from direct sunlight or heat sources.
Store them upright, and ensure the valves are closed tightly.
Liquid Fuel (White Gas, Coleman Fuel, Kerosene):
Store liquid fuels in their original containers in a cool, dry, and well-ventilated space.
Keep them away from direct sunlight and heat sources.
Label containers clearly to avoid confusion and accidental use.
Charcoal:
Keep charcoal briquettes in a dry, airtight container to prevent moisture absorption, which can affect their performance.
Store the container in a cool, dry place.
Firewood and Fire Starters:
Keep firewood and fire starters in a dry, covered area to prevent exposure to moisture.
Ensure they are stored off the ground to avoid contact with damp soil.
Gasoline and Diesel:
Store gasoline and diesel in approved containers specifically designed for fuel storage.
Keep containers tightly sealed and away from heat sources, open flames, and direct sunlight.
Store fuel in a well-ventilated area away from living spaces.
Alcohol-Based Fuels (Methanol, Ethanol, Denatured Alcohol):
Store alcohol-based fuels in their original containers in a cool, dry place.
Keep them away from open flames and heat sources.
Label containers accurately to avoid accidental use.
Safety Considerations:
Always store fuel sources out of the reach of children and pets.
Keep fuel sources away from ignition sources and open flames, including campfires and stoves.
In case of accidental spills, have appropriate cleanup materials on hand, such as absorbent materials and fire extinguishers.
Check for Leaks:
Regularly inspect fuel containers for any signs of leakage, damage, or deterioration. Replace damaged containers promptly.
Follow Manufacturer Guidelines:
Adhere to the manufacturer's recommendations and guidelines for storing specific fuel sources. Different fuels may have unique storage requirements.
By following these guidelines, you can ensure the safe storage of your fuel sources and minimize the risks associated with their use during camping and outdoor activities. Remember that safety is paramount when dealing with flammable materials, and proper storage is a crucial part of maintaining a safe campsite.
Conclusion
In the world of nomadic living, outdoor cooking gear is your passport to delicious meals and unforgettable experiences. By understanding the types of gear available, choosing the right equipment, and mastering campfire cooking, you'll be well-prepared for your culinary adventures on the road.
Invest in quality gear that suits your style and budget, and remember to prioritize safety in all your cooking endeavors. With the right gear and know-how, you'll savor every moment of outdoor cooking as you embrace the nomadic lifestyle.
Additional Resources
National Park Service (NPS):
Explore detailed information on national parks, including maps, visitor center locations, and park-specific regulations, by visiting the official NPS website.
Leave No Trace Center for Outdoor Ethics:
Learn about responsible outdoor practices and ethics that help minimize environmental impact. This resource is essential for eco-conscious adventurers.
REI Co-op Blog:
Discover an informative blog from REI offering articles on camping, hiking, gear reviews, and tips for outdoor enthusiasts.
The Dyrt:
Find and review campgrounds across the U.S. on The Dyrt, a valuable resource for campers searching for the perfect site.
Outdoor Adventure Blogs:
Delve into the world of outdoor adventure through the following links to popular blogs. These blogs cover tips, personal stories, and trip reports, catering to van life enthusiasts, campers, and outdoor activity lovers.
Camping Gear Retailers:
Shop for outdoor equipment and gear by accessing links to well-known camping gear retailers or Amazon pages, ensuring you have the right tools for your next adventure.
Camping Forums:
Join online camping forums and communities where you can seek advice, share your experiences, and connect with fellow campers.
Mellow Nomads Van Life Reddit Community
Minivan Camper Conversion Van Life Facebook Community
Nomadic Living Resources:
For those interested in the nomadic lifestyle, explore links to resources and forums discussing van life, RV living, and minimalistic travel, providing valuable insights for your journey.
Cooking and Recipes Websites:
Access websites featuring camping recipes and tips for outdoor cooking, enhancing your culinary skills while enjoying the great outdoors.
Cowboy Cooking with Kent Rollins
First Aid and Safety Resources:
Stay prepared with these resources on wilderness first aid, safety tips, and emergency preparedness, ensuring a safe and enjoyable outdoor experience.
Wildlife and Bird Watching Resources:
Explore resources for bird-watching enthusiasts, including guides to common bird species and recommended birdwatching locations.
Astronomy and Stargazing Guides:
Delight in celestial events with resources offering stargazing tips, information on astronomical phenomena, and recommended stargazing locations.
Travel and Adventure Apps:
Enhance your outdoor experience with travel and adventure apps, including navigation tools, weather updates, and camping apps that simplify your journey.
Further Reading
Books:
"The Ultimate Hiker's Gear Guide: Tools and Techniques to Hit the Trail" by Andrew Skurka
"The Complete Idiot's Guide to Camping and Hiking" by Michael Mouland
"Van Life: Your Home on the Road" by Foster Huntington
"Camping and Woodcraft: A Handbook for Vacation Campers and for Travelers in the Wilderness" by Horace Kephart
Magazines:
"Vangazine" – This magazine focuses on the van life lifestyle, offering articles and features on van conversions, travel experiences, and the community of van life enthusiasts.
"Backpacker" – Offers articles on hiking, backpacking, and outdoor adventure.
Online Articles and Blogs:
Mellow Nomadic Adventures Blog
National Park Guides:
Links to guides for specific national parks I've visited:
Gateway Arch National Park Guide
Great Smoky Mountains National Park Guide
Mammoth Cave National Park Guide
New River Gorge National Park Guide
Connect with Nomads & Camping Enthusiasts at a Meetup near you: